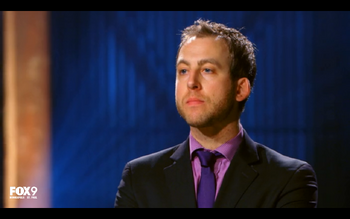 The 
second episode 
of
the fourth season
of
MasterChef
aired on May 22, 2013. It chronicles the second day of auditions, and the return of someone who failed to make it last season.
The first cook to present a dish is Albaya "Bime" Cruz , a 35 year old boxing coach from Mass, with a traditional Puerto Rican dish called Mofongo Con Camarones. Joe thinks that Bime is a faker and unable to handle being away from his daughters, giving a no. Graham loves the passion and flavor in the dish and is a yes. While Gordon is concerned that Bime will struggle being away from his family, he agrees with Graham and gives Bime an apron, much to Joe's disapproval.
Next up is Southern belle Jessie, with a Sea Bass En Croute. Joe finds there to be too much going on and is a no. Graham disagrees and gives her a yes. In order to determine if Jessie is the real deal, Gordon gets a whole fish for Jessie and demands six perfect fillets. Jessie delivers, and earns an apron.
Successful Auditons
Edit
Unsuccessful Auditions
Edit